Balustrades are a safety barrier protecting people from falls in areas where there are drops of 1+ metres. They are most commonly fitted on decks, balconies and stairways (inside and outside the home) and are required by law.
If you look around the Taupo area, A & T Glass have fitted a number of balustrades on a range of residential and holiday homes, including hillside areas such as Kinloch where keeping the view clear is vital. Balustrades are no longer just the timber post and rail that the builder bangs up on the deck at the end of the job. Glass and aluminium balustrades are now a standard solution, offering long-lasting and virtually maintenance free barrier solutions, that look great for years and years.
A & T Glass offer the full HomePlus Balustrade Range, which are designed and manufactured in NZ to meet local market demands and NZ Building Regulations. Designed for the NZ market, most of the balustrades we offer can be fitted on modern floating or waterproof decks.
Powder coated in NZ with local Dulux powder coat finishes, all our balustrades come with a 10 year surface warranty and 5 year product/install warranty. You can rely on our balustrades to be compliant and stand the test of time, keeping you and your family safe and sound.
Aluminium Post and Rail/Slats/Louvres/Perforated Screens
Viking aluminium post balustrade has been installed in hundreds of NZ homes since the early 2000's and continues to be a very popular balustrade choice to this day. Our other aluminium post balustrade is the Edge system, which was introduced in the mid 2000's. Based on the Viking system, Edge has some additional features such as hidden fixings, upstand post and offers a larger range of infill options.
Both systems have a range of baluster and handrails in varying sizes and shapes, so you can choose a classic, traditional or more contemporary look for your place.
Meanwhile the Edge balustrade system continues to evolve, recently adding fronted mounted fins and perforated aluminum screen infill options to the range. These have been designed to offer the latest in design styles for modern homes and look particularly good in satin black and modern silver colours.
For more details see here
Prefabricated Aluminium Baluster Panels
Ready made panels for residential balustrading are ideal for situations where an entry level aluminium balustrade is adequate. Raked panels (panels that can be angled), can accommodate a slope up to 35 degrees, making them suitable for stairs and sloping areas such as this retaining wall pictured.
Aluminium Post & Glass Balustrades
Viking and Edge post balustrade systems are designed to accommodate a range of toughened safety glass panels, in a choice of finishing options. Glass balustrades are especially sought-after for deck and balcony barriers, as the glass doesn't interrupt the view and is a good looking, modern solution.
These balustrades are available as fully framed glass (with a bottom rail and handrail) or semi-frameless glass options, giving you lots of choices when you are looking for the ideal balustrade for your place.
Frameless Glass Balustrades
Modern, minimalist frameless glass balustrades are the ultimate in style statements and offer the least interrupted views. Heavyweight toughened or laminated glass is used with a range of different fixing options for frameless barrier finish
Fixing options:
Mini Posts: an upright strut post and slim aluminium top rail system
Infinity: a continuous and enclosed aluminium channel system. With or without a top rail, depending on glass used.
Disc Anchor: aluminium or stainless steel disc anchor system. With or without a top rail, depending on glass used.
Rectangular Clamp: aluminium or stainless steel clamp system.. With or without a top rail, depending on glass used.
Find our more about Frameless Balustrades
Pool Fencing
Balustrades are also a popular choice for pool fencing, especially glass balustrades such as the Mini Post frameless glass system. Glass fencing is especially appreciated by adults at family pools as it offers the best in unobstructed views of kids in the pool.
Our pool fencing complies with the robust NZ pool fencing regulations, which have been put in place to protect unsupervised young children from entering pool areas and put themselves at risk of drowning. You can rely on us for pool fencing advice and installing the best in compliant and reliable pool fencing for your outdoor space.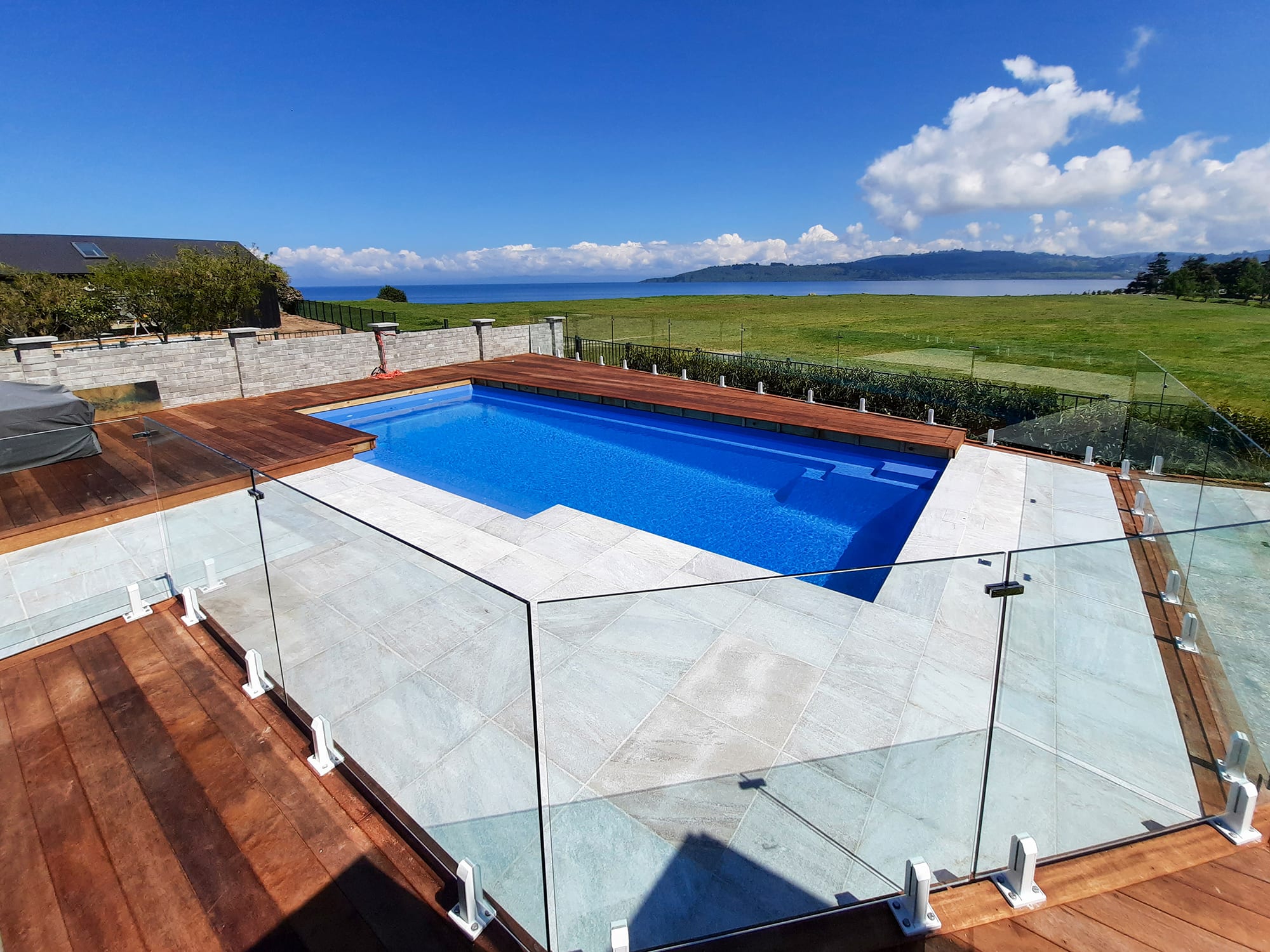 Find out more about Pool Fencing here