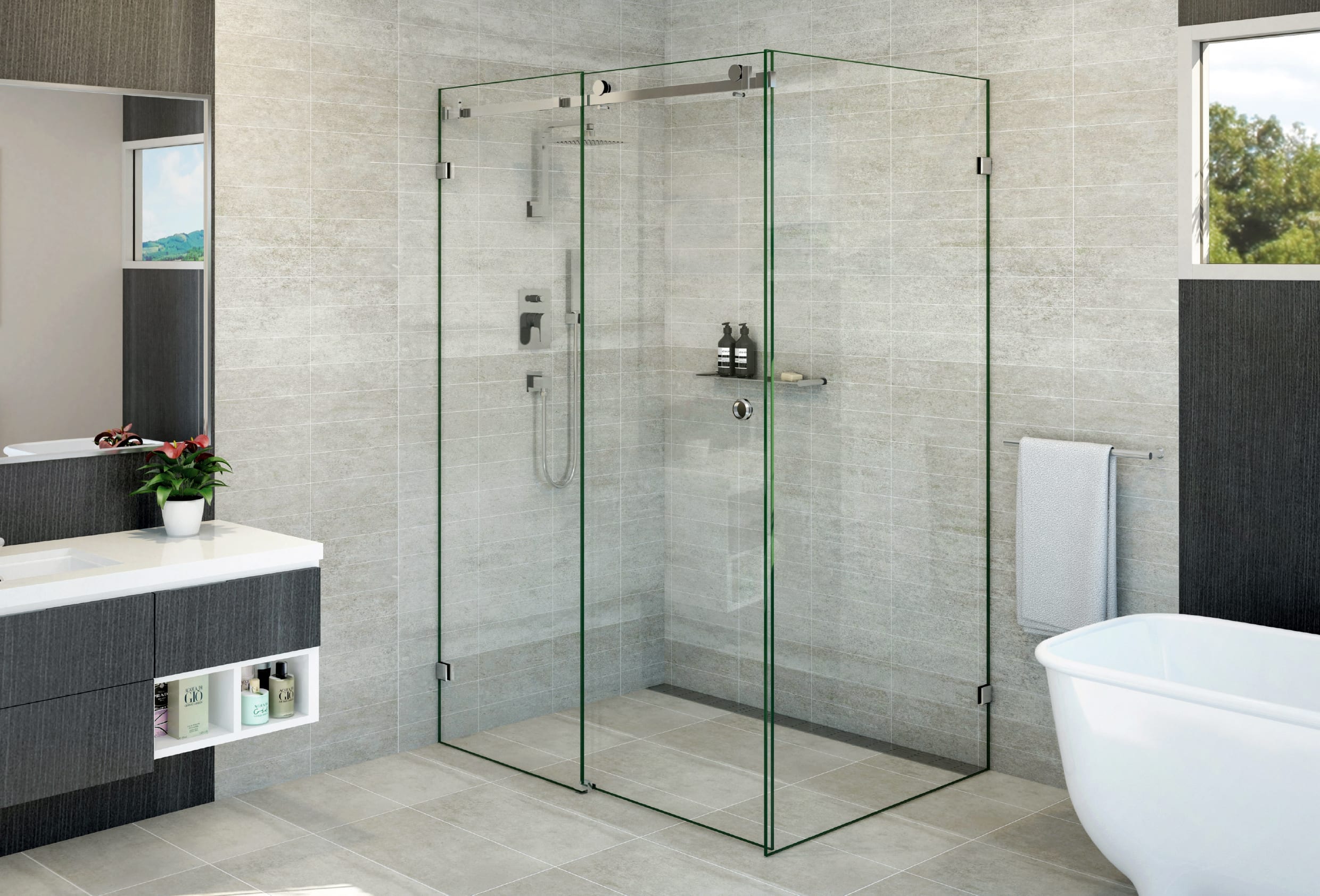 Showers
Whether you dream of a new shower or upgrading your current one, we offer with top-quality solutions which can be relied on for years of reliable service.
It is especially important to use top-quality products in bathrooms to avoid leaks or other water damage. Water leaks from showers can cause unseen damage over time, which is why we only install shower systems that have proven themselves leak free over years of service in NZ homes.
A & T Glass carries the full HomePlus shower range. HomePlus is well known for making trustworthy and reliable showers, having manufactured and supplied them to NZ homes for over 40 years. With bathroom products continually evolving in style and ongoing product improvements, we work closely with other top NZ suppliers to offer our customers the latest and best in shower hardware and screens available on the market.
Years of experience in installing showers means we can offer you really solid advice on what is the best shower for your unique needs. Whether it's a traditional framed shower, or a minimalist frameless glass shower or even our in between semi-frameless glass shower option, we have you covered. Fixed panels (for walk in showers), bath screens, sliding roller glass doors and a range of modern hardware in the latest bathroom finishes (satin, chrome, black, gold and brass), means we truly are your one-stop shower shop. Depending on your requirements, we offer a choice of showers options including our popular all-inclusive systems (with acrylic trays and linings, fixed glass panels and a glass door), in standard bathroom sizes. These showers are the preferred choice for many Taupo building companies who are building new homes being throughout the region. Otherwise we custom design, make and install a shower to fit your bathrooms exact needs.
A display of showers is set up at the A & T Glass showroom so you can visit and get a feel for the shower that best suits you. Our friendly staff are also on hand to help you with useful shower advice when you visit.
Colours: Standard white, or custom colour available on order
Size: 600mm -1200mm opening
Infill: 4mm Toughened Safety Glass or Waterford Styrene
Semi-Frameless Shower
Scopedor semi-frameless showers combine the strength of a classic framed shower screen (like Magna), with the luxury of a frameless glass door. Scopedor showers offers the best of both worlds with a mix of framed and frameless glass finishes, as well as the practicality of a watertight seal.
Offered in standard sized widths from 640mm minimum to a maximum 1240mm, Scopedor showers have an up to 70mm adjustment factor for exact fitting. Or Scopedor can be custom made to fit non-standard sizing for your bathroom requirements. Also available with 45 degree returns and matching acrylic shower tray (see pictures).
Standard Colours: White or Polished & Bright Anodised
Custom colours available on order
Size: 600mm -1200mm opening
Infill: Door – 6mm Toughened Safety Glass
Return: 4mm Toughened Safety Glass
Frameless Showers
Apart from looking exceptionally gorgeous in your bathroom, frameless showers are popular for their minimalist design with less parts/hardware to keep clean. Fully customised, frameless showers embrace the less is more principle and instead of framing the 10mm thick glass panels the polished and rounded edges are left on display.
Frameless glass showers are especially popular for the modern fully tiled bathrooms, which have a waterproof membrane system in place to protect floors and walls from water leaks. Depending on the size of the bathroom/shower, along with your design preference there are a few different options for your frameless glass shower to think about:
Fixed Panel Screen: A Slim 18 x 18mm channel is used to fix glass panels to the wall and tiled floor edge. Or if you prefer a fully framed finish, the channel is fitted around the whole glass panel screen. Fixed panel screens are ideal for walk in showers, where accessibility is not hindered by doors, but the bathroom is still protected from shower water.
Hinged Doors: Classic hinged frameless shower doors are available with a range of different handle styles – including rounded, square, single pull, double pull etc. Handles and hinges are available in a range of finishes: Stainless Steel Satin or Chrome, Satin Black, Gold or Brass
Sliding Roller Doors: Perfect for space saving, these sliding roller systems are also popular for their stylish modern looks. Available in Stainless Steel Satin or Chrome and Satin Black.
Panel fixing channels are manufactured from aluminium so they can powdercoated in a colour of your choice, but our customers favourite colours are white or black, or they favour a classic chrome or satin finish.
Frameless Shower door hardware is simple and elegant, blending seamlessly into the overall design and is available in a choice of stylish modern colours. A & T glass will be happy to help you with information on the different shower options, just drop into the showroom or book an in-home consultation for expert advice and help
We use a range of top-quality shower products to ensure you get a long lasting shower that doesn't leak and looks good for years to come. We also recommend the Vitroglaze coating for shower glass, to help it stay looking as new for even longer. Talk to us about Vitroglaze for your shower and VitroClean for cleaning the shower and other bathroom surfaces.
For more information check: